Low Carb Pancakes with Blueberry Compote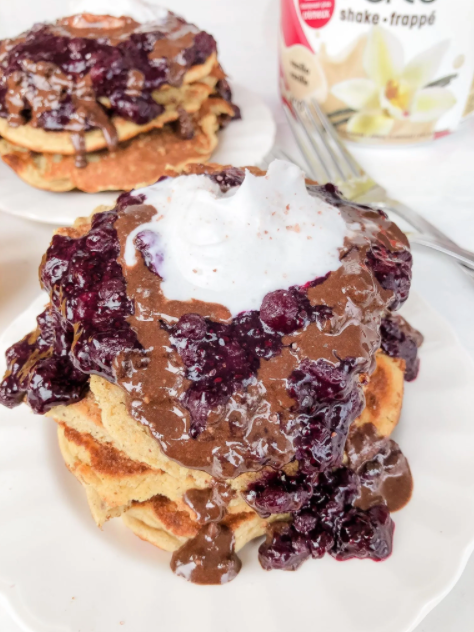 The fluffier the better, that's our motto when it comes to pancakes, and with that in mind these pancakes are the perfect breakfast option for the entire family. They're low-carb, low-sugar, and made with our keto-friendly vanilla shake powder that is full of high fats.
Makes : 10-12 pancakes
Calories : 184 per serving
carbs : 9g       fats : 15g       protein : 4g
INGREDIENTS
for Pancakes
4 eggs
6 tablespoons melted butter
6 tablespoons heavy cream
6 tbsp almond milk
1 teaspoon vanilla extract
1⁄2 cup coconut flour
5 tablespoons almond flour
1 scoop Love Good Fats - Vanilla Shake
pinch of sea salt
11⁄2 teaspoons gluten-free baking powder
1 teaspoon ground cinnamon
Optional: 2 teaspoons stevia
butter or coconut oil to grease the pan
for Blueberry Compote
2 cups fresh blueberries
2 tablespoons water
2 tablespoons lemon juice
1 teaspoon ground cinnamon
1 tbsp chia seeds
pinch of nutmeg
DIRECTIONS
Pancakes
1. In a large bowl, whisk together the wet ingredients.
2. In a separate bowl, combine the dry ingredients and mix until evenly combined.
3. Add the dry ingredients to the wet mixture and whisk until smooth.
4. Grease a large saucepan and place on medium heat. Wait until the pan is hot before
spooning the pancake mixture in 2-3 tbsp serving sizes. The pancakes expand, so do not
overcrowd the pan! Cook for 3-4 minutes per side or until golden brown.

Berry Compote
1. While that mixture sits, place all sauce ingredients in a small saucepan and bring to a boil
and then simmer for five minutes. Remove from heat and set aside.
Assemble
1. Stack the pancakes, drizzle with berry compote, dark chocolate, and coconut whipped