Keto Christmas Trifle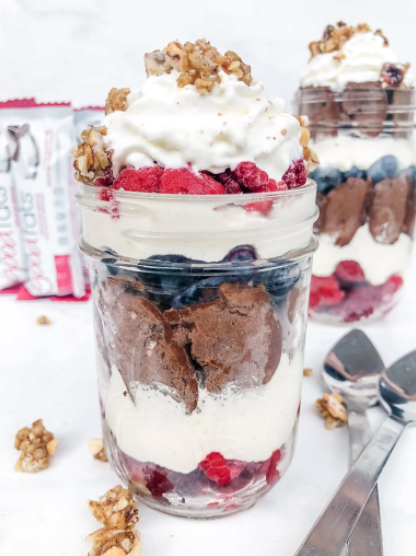 The perfect dessert to make your Christmas table look spectacular! The best part…it's so easy to make!
Serves : 4 small mason jars
INGREDIENTS
4 Love Good Fats Coconut Chocolate Chip Bars, sliced
1 cup heavy whipping cream
½ cup monk fruit sweetener
1 scoop Love Good Fats Vanilla Shake Mix
2 cups blueberries
2 cups raspberries
DIRECTIONS
In a large bowl, cream together the whipping cream, monk fruit sweetener and LGF Shake Mix until peaks form and the mixture is thick.
2. Using 4 small mason jars, place ⅓ cup raspberries in the bottom of the jar, top with whipped cream, layer with coconut chip bar slices, top with whipped cream, blueberries and top with an additional layer of whipped cream.
3. Serve with a sprinkle of dark chocolate shavings and a sprinkle of sea salt!